After 7 years of faithful service as Senior Pastor at UAC, Pastor Kevin is retiring at the end of May 2021, where he and his loving wife, Gerda, will then take a well deserved rest to catch up with their children and grandchildren.
Be sure to join us as we prepare to make them feel loved and appreciated for all their hard work and dedication in serving at Unionville Alliance Church.
---
SPECIAL CELEBRATION SERVICE & RETIREMENT PARTY
Sunday, May 30, 2021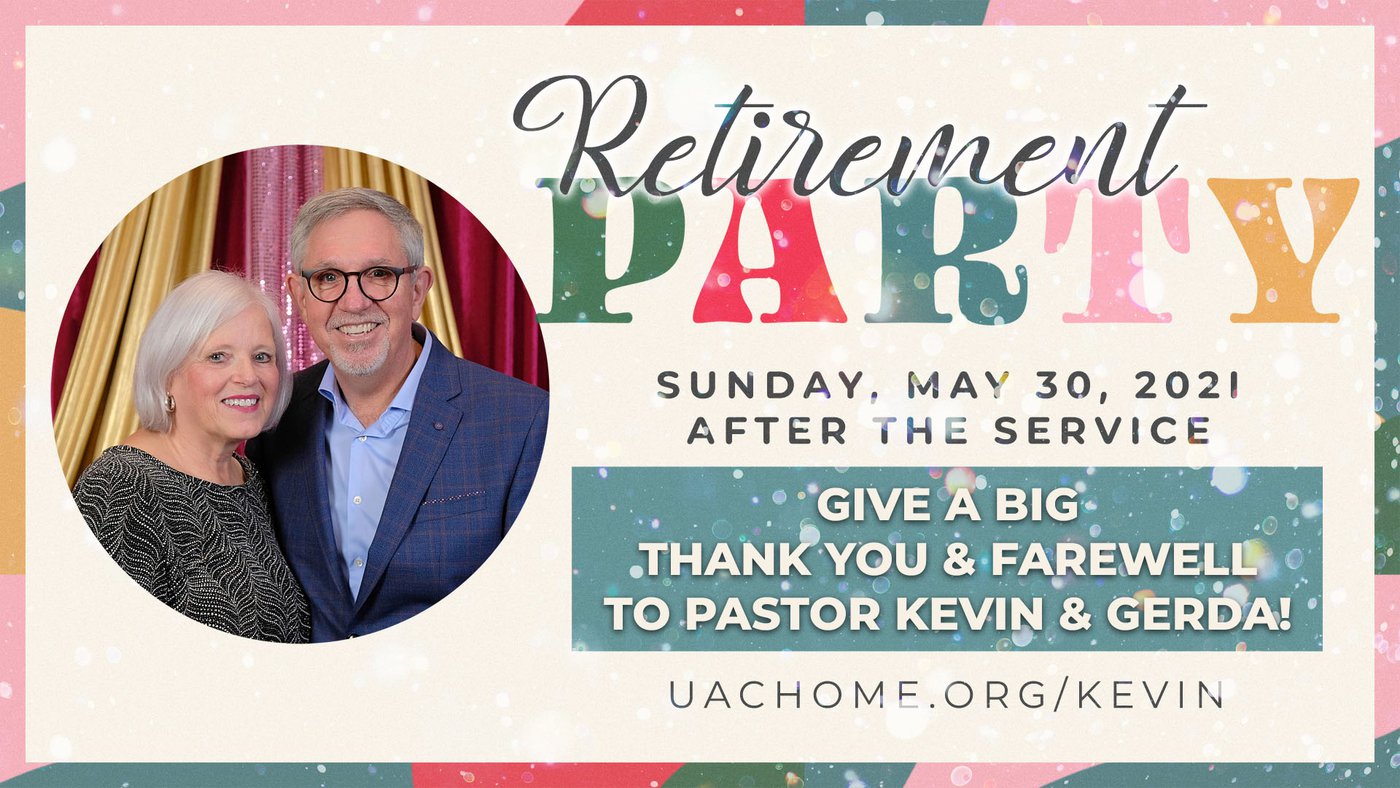 Special Service
@ 10 am (during the service)
There will be a special presentation and gifts for Pastor Kevin and Gerda during the service.
Zoom Reception
@ 3 pm
Join Pastor Kevin and Gerda on Zoom as we give them a virtual farewell party. Zoom link will be provided shortly.
---
GIVING THEM A GIFT OF LOVE
Pastor Kevin and Gerda have dedicated the last 7 years (and beyond) to serving the Lord with generous, caring hearts. We would like to express our deepest gratitude by collecting funds for a love gift so that we can bless them in their retirement. Shhhh... they don't know this is coming.
If you would like to participate, our Elder Chair, Johnny Chan Kin, will be collecting the funds and giving them to Pastor Kevin and Gerda at their Retirement Party. Please do one of the following:
Cheque/Cash: Make the cheque out to Johnny Chan Kin. Put the cheque or cash in an envelope addressed to "Johnny Chan Kin re: retirement gift".
Johnny will be available to collect gifts on Sunday mornings
You can drop the envelope off in the dropbox located outside by the office doors
If you prefer to mail a cheque to the church, please clearly address the envelope for "c/o Johnny Chan Kin, Unionville Alliance Church, 4898 16th Ave, Markham ON, L3R 0K6"
E-transfer: Send the e-transfer to Johnny Chan Kin's email: j2chanki@gmail.com; put in the memo that it's for "Kevin's retirement gift".
Please note that this love gift is NOT considered an offering or charitable donation. It is not tax receiptable and will not be processed by Unionville Alliance Church. It is a direct gift from you to Pastor Kevin.
---
YOU CAN SEND THEM YOUR WELL WISHES!
You have until May20th to complete each of the following items:
1) Sign the card
This card magically grows when it runs out of space, so everyone can contribute! Also, just to add a little extra, include a photo of yourself posed with something that reminds you of Pastor Kevin and Gerda. Make sure you sign your name!
P.S. If you would prefer to mail them a card, please address it as: c/o Kevin's Retirement, Unionville Alliance Church, 4898 16th Avenue, Markham ON, L3R 0K6. Please have them mailed by early May.
2) RECORD a greeting
Say whatever you like and use as much time as you need. Pastor Kevin and Gerda will get them all after the party! We will be using some of the submitted videos to create a highlight reel to show on May 30th.
3) Share your photos
We would love to be able to put together a photo montage for Pastor Kevin and Gerda. Upload your photos of Pastor Kevin and Gerda below:
4) Share your trivia
Tell us an interesting fact or piece of trivia for Pastor Kevin and/or Gerda. You can submit as many answers as you want.
---
More questions? Want to help? Contact us:
Johnny Chan Kin
647-524-6861 (please leave a message)
Barb Doner
905-737-6858 (please leave a message)