Program Update: COVID-19
Rocky Railway is now changing course to create a virtual experience for our summer camp. Our kids will still be on track for trusting Jesus. Details below!
While we are walking together through these uncertain times, we remember that we serve a faithful God. As such, we commit to doing our best to make wise decisions not out of fear, but out of our trust! Should you have any questions please contact Verna Proctor at vernap@uahcome.org.
Kids Kapers Virtual Summer Camp
July 13-17
Kids Kapers Rocky Railway has become a quarantine virtual friendly camp that will be fun for kids and easy for parents! Join us for an interactive and engaging week where we will explore Jesus' power and how we can trust Jesus to pull us through when life feels like a valley or mountaintop! Our campers can also expect a week full of faith discoveries, memorable music along with our locomotive-stations. And best of all our great team of Student Summer Workers will be on board our express choo-choo!
Dates: July 13-17
Grades: 1 – 6 (fall 2020)
Times: 9:15 am - 11:15 am
Registration Fee:
Early Bird $25 per child (before June 20th)
Regular $35.00
Kindly note: There will be no refunds should your child not be able to join us.
---
our daily schedule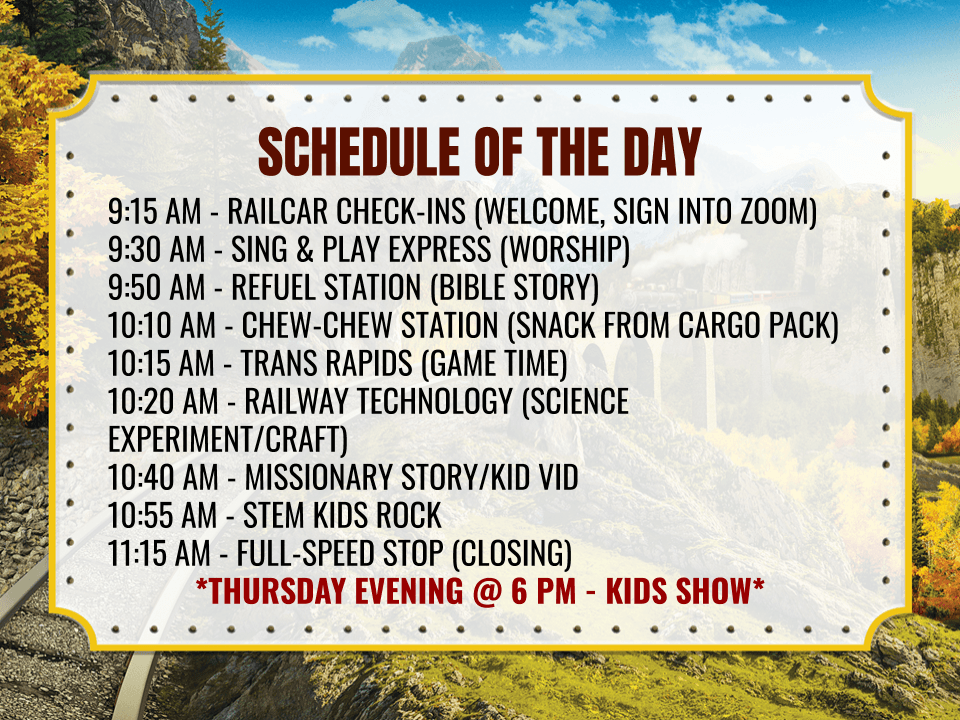 ---
What Can you expect before your child comes aboard?
CARGO-PACK
Each child will receive a cargo-pack with their Kids Kapers t-shirt, supplies that they will require for the week and some non-perishable chew-chew snacks to stay powered up!
Please note: All cargo-packs will be prepared with the utmost cleanliness. The packs will be available for pick-up the week before and we will email or text you for pick-up details.
ACCESSING OUR ONLINE PROGRAM
You will receive an email on Sunday, July 12th with the link to join our Zoom call, which is a password protected virtual site. Check-in will begin at 9:15 am as we gather into our virtual waiting room to take attendance.
---
ALL ABOARD!