Sunday, November 7, 2021
"The Church of Smyrna: The Persecuted Church" sermon by Pastor Daniel Mills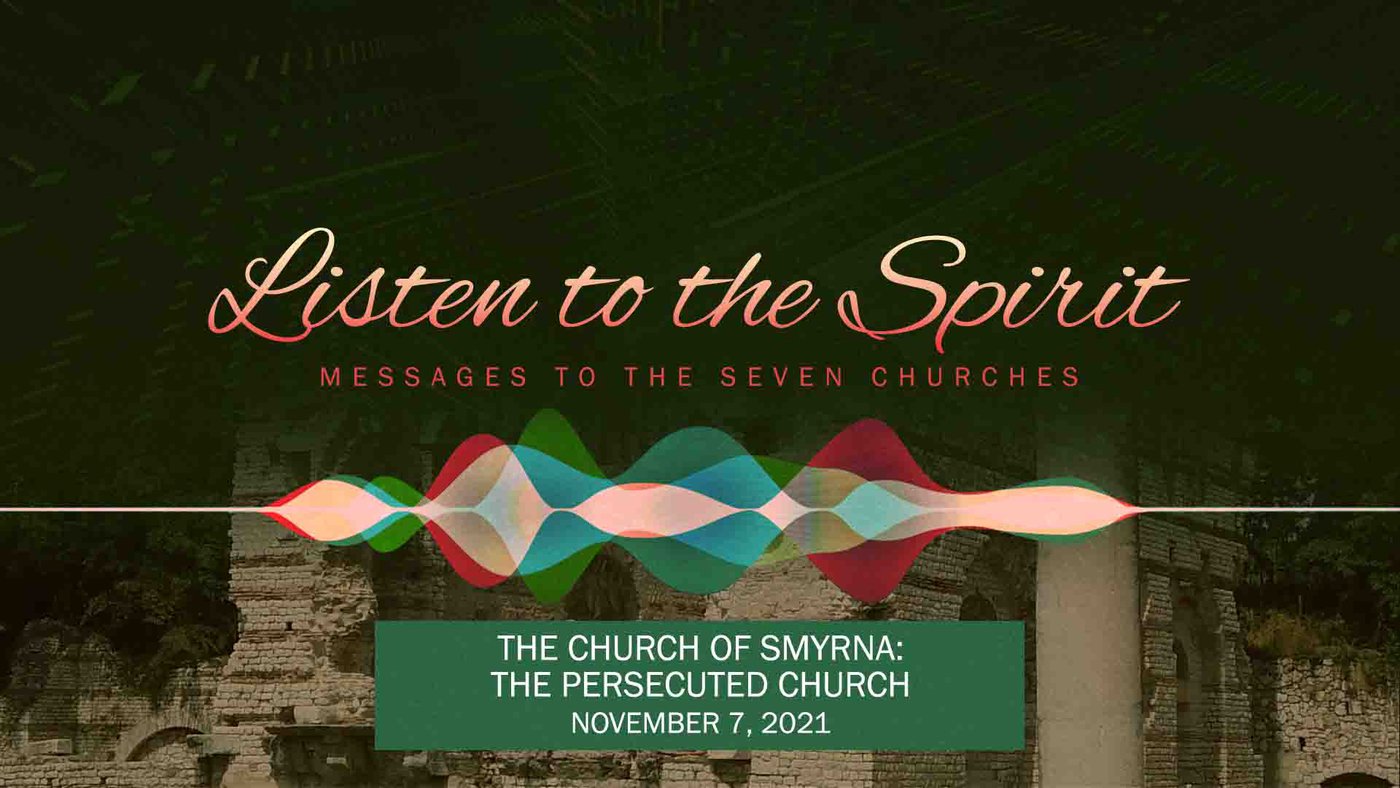 ---
Story of Bishara
History of Polycarp - Bishop of Smyrna
Revelation of Jesus
Revelation 2:8 – This is the message from the one who is the First and the Last, who was dead but is now alive.
1 Corinthians 15:16-17 – And if there is no resurrection of the dead, then Christ has not been raised. And if Christ has not been raised, then your faith is useless and you are still guilty of your sins.
1 Corinthians 15:19 – And if our hope in Christ is only for this life, we are more to be pitied than anyone in the world.
Commendation
Revelation 2:9 – I know about your suffering and your poverty—but you are rich!
Revelation 2:9 – I know the blasphemy of those opposing you. They say they are Jews, but they are not, because their synagogue belongs to Satan.
Romans 5:3-4 – Not only so, but we also glory in our sufferings, because we know that suffering produces perseverance, perseverance, character; and character, hope.
2 Corinthians 6:10 – We are poor, but we give spiritual riches to others. We own nothing, and yet we have everything.
James 2:5 – Listen to me, dear brothers and sisters. Hasn't God chosen the poor in this world to be rich in faith? Aren't they the ones who will inherit the Kingdom he promised to those who love him?
Rebuke (if you can call it that)
Revelation 2:10 – Don't be afraid of what you are about to suffer. The devil will throw some of you into prison to test you. You will suffer for ten days. But if you remain faithful even when facing death, I will give you the crown of life.
Love
1 John 4:18 – Such love has no fear, because perfect love expels all fear. If we are afraid, it is for fear of punishment, and this shows that we have not fully experienced his perfect love.
Faith
Mark 4:39-40 – When Jesus woke up, he rebuked the wind and said to the waves, "Silence! Be still!" Suddenly the wind stopped, and there was a great calm. Then he asked them, "Why are you afraid? Do you still have no faith?"
Promises of God
Genesis 15:1 – Some time later, the Lord spoke to Abram in a vision and said to him, "Do not be afraid, Abram, for I will protect you, and your reward will be great."
Prayer
Psalm 34:4 – I prayed to the Lord, and he answered me. He freed me from all my fears.
Trust in God's Presence
Psalm 23:4 – Even when I walk through the darkest valley, I will not be afraid, for you are close beside me. Your rod and your staff protect and comfort me.
Psalm 53:3-4 – But when I am afraid, I will put my trust in you. I praise God for what he has promised.
Isaiah 12:2 – I will trust in him and not be afraid. The Lord God is my strength and my song; he has given me victory.
Acts 20:22-24 – And now I am bound by the Spirit to go to Jerusalem. I don't know what awaits me, except that the Holy Spirit tells me in city after city that jail and suffering lie ahead. But my life is worth nothing to me unless I use it for finishing the work assigned me by the Lord Jesus—the work of telling others the Good News about the wonderful grace of God.
Reward
James 1:12 – God blesses those who patiently endure testing and temptation. Afterward they will receive the crown of life that God has promised to those who love him.
Revelation 2:11 – Whoever is victorious will not be harmed by the second death.
Revelation 20:14 – Then death and the grave were thrown into the lake of fire. This lake of fire is the second death.
Romans 8:16-18 – For his Spirit joins with our spirit to affirm that we are God's children. And since we are his children, we are his heirs. In fact, together with Christ we are heirs of God's glory. But if we are to share his glory, we must also share his suffering. Yet what we suffer now is nothing compared to the glory he will reveal to us later.