Sunday, September 12, 2021
"The Vision of Barnabas" sermon by Pastor Daniel Mills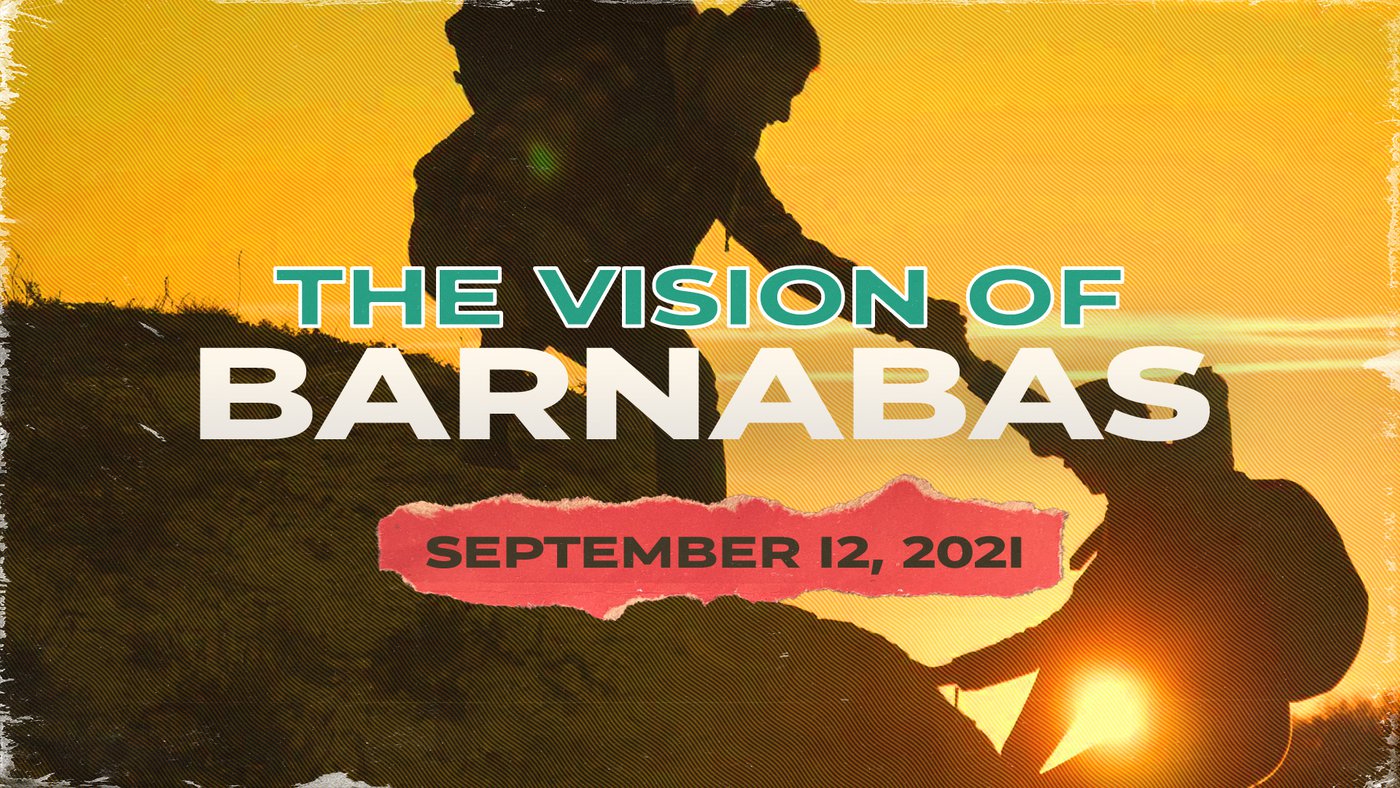 ---
Barnabas saw something in Paul before others did
Acts 8:1 – Saul was one of the witnesses, and he agreed completely with the killing of Stephen. A great wave of persecution began that day, sweeping over the church in Jerusalem
Acts 9:20 – And immediately he began preaching about Jesus in the synagogues, saying, "He is indeed the Son of God!"
Acts 9:26-27 – When Saul arrived in Jerusalem, he tried to meet with the believers, but they were all afraid of him. They did not believe he had truly become a believer! Then Barnabas brought him to the apostles and told them how Saul had seen the Lord on the way to Damascus and how the Lord had spoken to Saul. He also told them that Saul had preached boldly in the name of Jesus in Damascus.
Acts 11:25-26 – Then Barnabas went on to Tarsus to look for Saul. When he found him, he brought him back to Antioch. Both of them stayed there with the church for a full year, teaching large crowds of people.
1 Thessalonians 5:11 – So encourage each other and build each other up, just as you are already doing.
Barnabas believed in Mark when Paul lost faith in him
Acts 13:13 – Paul and his companions then left Paphos by ship for Pamphylia, landing at the port town of Perga. There John Mark left them and returned to Jerusalem.
2 Timothy 4:11 – Only Luke is with me. Bring Mark with you when you come, for he will be helpful to me in my ministry.
Romans 1:12 – When we get together, I want to encourage you in your faith, but I also want to be encouraged by yours.
Acts 11:23 – When he arrived and saw this evidence of God's blessing, he was filled with joy, and he encouraged the believers to stay true to the Lord.
Barnabas saw the hope, power, and beauty of the Church and the Gospel
Acts 4:36-37 – For instance, there was Joseph, the one the apostles nicknamed Barnabas (which means "Son of Encouragement"). He was from the tribe of Levi and came from the island of Cyprus. He sold a field he owned and brought the money to the apostles.
Acts 13:2 – One day as these men were worshiping the Lord and fasting, the Holy Spirit said, "Appoint Barnabas and Saul for the special work to which I have called them."
We are all sinners
Romans 3:23 – For all have sinned and fall short of the glory of God
God loves us all
John 3:16 – For God so loved the world that he gave his one and only Son, that whoever believes in him shall not perish but have eternal life.
Jesus died to forgive us
Ephesians 1:7 – In him we have redemption through his blood, the forgiveness of sins, in accordance with the riches of God's grace
Jesus desires to heal us
1 Peter 2:24 – "He himself bore our sins" in his body on the cross, so that we might die to sins and live for righteousness; "by his wounds you have been healed."
Jesus wants to set us free
John 8:36 – So if the Son sets you free, you are truly free.
Jesus rose again from the dead and is alive forevermore!
1 Peter 1:3 – In his great mercy he has given us new birth into a living hope through the resurrection of Jesus Christ from the dead
We can repent and turn to Jesus
1 John 1:9 – If we confess our sins, he is faithful and just and will forgive us our sins and purify us from all unrighteousness.
Romans 10:9-10 – If you declare with your mouth, "Jesus is Lord," and believe in your heart that God raised him from the dead, you will be saved. For it is with your heart that you believe and are justified, and it is with your mouth that you profess your faith and are saved.