TAKE NOTES
SUNDAY, November 20, 2022
"Unrealized Hope" by Daniel Mills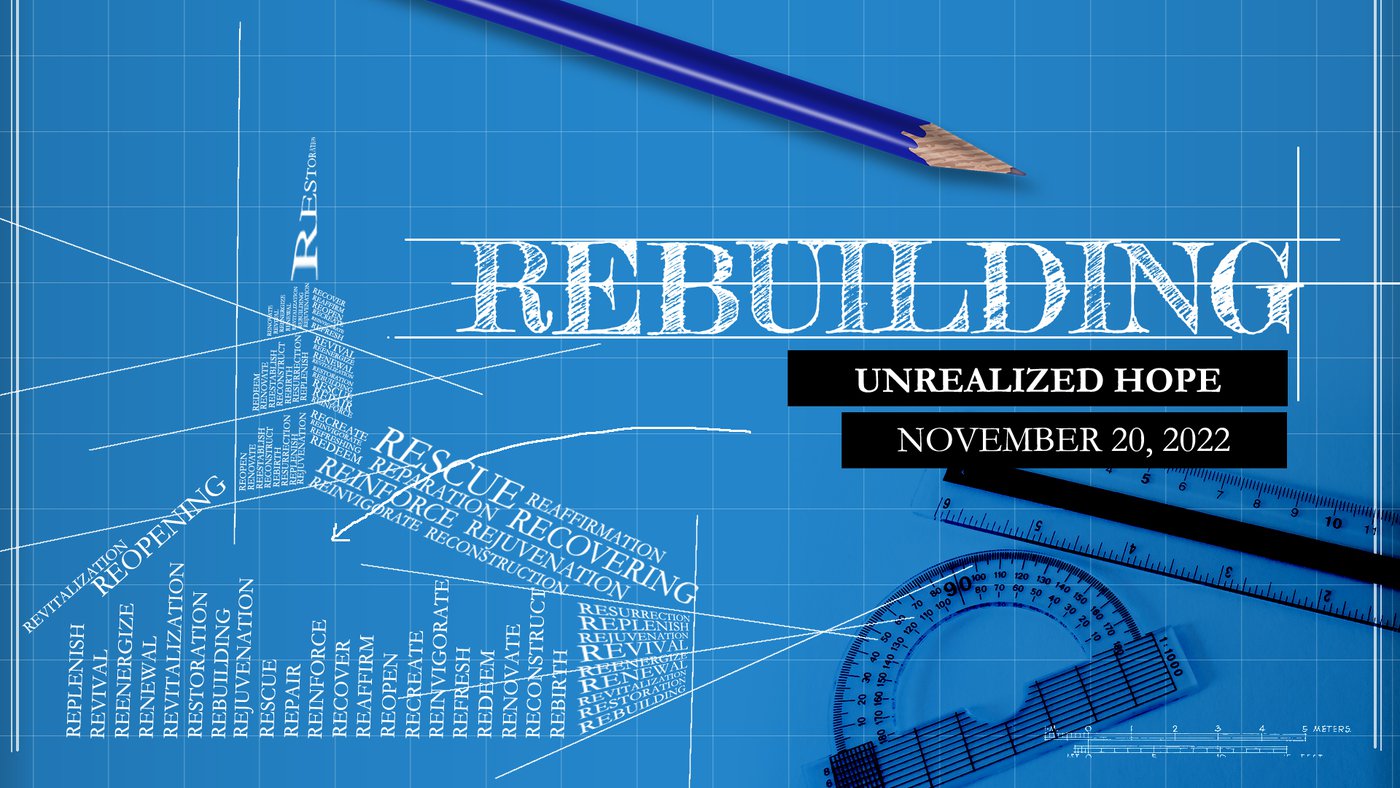 ---
Nehemiah 13:11 – I immediately confronted the leaders and demanded, "Why has the Temple of God been neglected?" Then I called all the Levites back again and restored them to their proper duties.
Nehemiah 13:16-17 – Some men from Tyre, who lived in Jerusalem, were bringing in fish and all kinds of merchandise. They were selling it on the Sabbath to the people of Judah—and in Jerusalem at that! So I confronted the nobles of Judah. "Why are you profaning the Sabbath in this evil way?" I asked.
Nehemiah 13:18 – "Wasn't it just this sort of thing that your ancestors did that caused our God to bring all this trouble upon us and our city? Now you are bringing even more wrath upon Israel by permitting the Sabbath to be desecrated in this way!"
Nehemiah 13:25 – So I confronted them and called down curses on them. I beat some of them and pulled out their hair. I made them swear in the name of God that they would not let their children intermarry with the pagan people of the land.
A Focus on the Heart
Ezekiel 36:26-27 – And I will give you a new heart, and I will put a new spirit in you. I will take out your stony, stubborn heart and give you a tender, responsive heart. And I will put my Spirit in you so that you will follow my decrees and be careful to obey my regulations.
Hebrews 8:10 – I will put my laws in their minds, and I will write them on their hearts. I will be their God, and they will be my people.
Entrance for All People
Ezra 4:3 – But Zerubbabel, Jeshua, and the other leaders of Israel replied, "You may have no part in this work. We alone will build the Temple for the Lord, the God of Israel, just as King Cyrus of Persia commanded us."
Isaiah 2:2-3 – In the last days, the mountain of the Lord's house will be the highest of all—the most important place on earth. It will be raised above the other hills, and people from all over the world will stream there to worship. People from many nations will come and say, "Come, let us go up to the mountain of the Lord, to the house of Jacob's God. There he will teach us his ways, and we will walk in his paths."
Zachariah 8:22 – Many peoples and powerful nations will come to Jerusalem to seek the Lord of Heaven's Armies and to ask for his blessing.
Matthew 11:28 – Then Jesus said, "Come to me, all of you who are weary and carry heavy burdens, and I will give you rest."
An Indwelling Presence of God
Zachariah 2:10 – The Lord says, "Shout and rejoice, O beautiful Jerusalem, for I am coming to live among you."
John 1:14 – So the Word became human and made his home among us. He was full of unfailing love and faithfulness. And we have seen his glory, the glory of the Father's one and only Son.
Colossians 1:27 – To them God has chosen to make known among the Gentiles the glorious riches of this mystery, which is Christ in you, the hope of glory.
The Excellence of Love
1 Corinthians 13:4-7 – Love is patient and kind. Love is not jealous or boastful or proud or rude. It does not demand its own way. It is not irritable, and it keeps no record of being wronged. It does not rejoice about injustice but rejoices whenever the truth wins out. Love never gives up, never loses faith, is always hopeful, and endures through every circumstance.
1 John 4:8-9 – But anyone who does not love does not know God, for God is love. God showed how much he loved us by sending his one and only Son into the world so that we might have eternal life through him.