Sunday, October 31, 2021
"The Church of Sardis: The Dying Church" sermon by Pastor Daniel Mills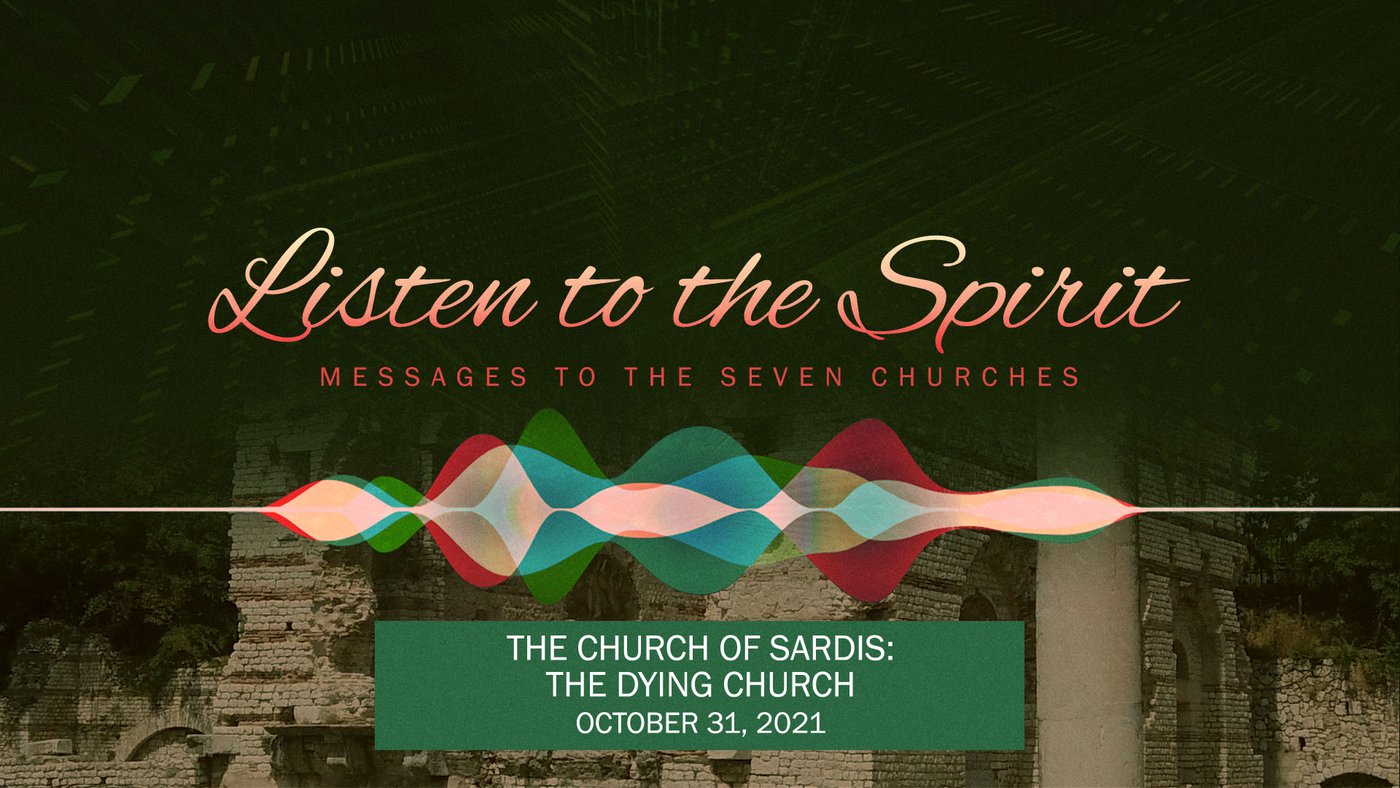 ---
Revelation of Jesus
Isaiah 11:1-2 – Out of the stump of David's family will grow a shoot—yes, a new Branch bearing fruit from the old root. And the Spirit of the Lord will rest on him—the Spirit of wisdom and understanding, the Spirit of counsel and might, the Spirit of knowledge and the fear of the Lord.
Rebuke
Revelation 3:1 – I know all the things you do, and that you have a reputation for being alive—but you are dead.
Matthew 23:27 – What sorrow awaits you teachers of religious law and you Pharisees. Hypocrites! For you are like whitewashed tombs—beautiful on the outside but filled on the inside with dead people's bones and all sorts of impurity.
Commendation
Revelation 3:4 – Yet there are some in the church in Sardis who have not soiled their clothes with evil. They will walk with me in white, for they are worthy.
Call to Repentance
1. Wake Up!
Revelation 3:2 – Wake up! Strengthen what little remains, for even what is left is almost dead. I find that your actions do not meet the requirements of my God.
1 Thessalonians 5:6 – So then, let us not be like others, who are asleep, but let us be awake and sober.
Matthew 26:41 – Keep watch and pray, so that you will not give in to temptation. For the spirit is willing, but the body is weak!
Romans 13:10-11 – "Love your neighbor as yourself." Love does no harm to a neighbor. Therefore love is the fulfillment of the law. And do this, understanding the present time: the hour has already come for you to wake up from your slumber, because our salvation is nearer now than when we first believed.
2. Go back
Revelation 3:3 – Go back to what you heard and believed at first; hold to it firmly.
1 Thessalonians 1:6 – So you received the message with joy from the Holy Spirit in spite of the severe suffering it brought you.
John 21:22 – As for you, follow me
3. Repent and turn to the Lord
Joel 2:12-13 – That is why the Lord says, "Turn to me now, while there is time. Give me your hearts. Come with fasting, weeping, and mourning. Don't tear your clothing in your grief, but tear your hearts instead." Return to the Lord your God, for he is merciful and compassionate, slow to get angry and filled with unfailing love.
Lamentations 3:40 – Let us test and examine our ways. Let us turn back to the Lord.
Zechariah 1:3 – Therefore, say to the people, 'This is what the Lord of Heaven's Armies says: Return to me, and I will return to you'
1 John 3:2-3 – Dear friends, we are already God's children, but he has not yet shown us what we will be like when Christ appears. But we do know that we will be like him, for we will see him as he really is. And all who have this eager expectation will keep themselves pure, just as he is pure.
Revelation 16:15 – Look, I come like a thief! Blessed is the one who stays awake and remains clothed, so as not to go naked and be shamefully exposed.
Reward
Revelation 3:5 – All who are victorious will be clothed in white.
Isaiah 61:10 – I am overwhelmed with joy in the Lord my God! For he has dressed me with the clothing of salvation and draped me in a robe of righteousness.
Isaiah 61:3 – To bestow on them a crown of beauty instead of ashes,
the oil of joy instead of mourning, and a garment of praise instead of a spirit of despair.
Colossians 3:12 – Since God chose you to be the holy people he loves, you must clothe yourselves with tenderhearted mercy, kindness, humility, gentleness, and patience.
Psalm 45:13-15 – The bride, a princess, looks glorious in her golden gown. In her beautiful robes, she is led to the king…what a joyful and enthusiastic procession as they enter the king's palace!
Revelation 19:7-8 – Let us be glad and rejoice, and let us give honor to him. For the time has come for the wedding feast of the Lamb, and his bride has prepared herself. She has been given the finest of pure white linen to wear." For the fine linen represents the good deeds of God's holy people.
Revelation 3:5 – I will announce before my Father and his angels that they are mine.
Galatians 3:26-28 – For you are all children of God through faith in Christ Jesus. And all who have been united with Christ in baptism have put on Christ, like putting on new clothes. There is no longer Jew or Gentile, slave or free, male and female. For you are all one in Christ Jesus.
Text the word "Promise" to (647) 417-7289 to receive a promise verse that speaks of your identity in Christ.