TAKE NOTES
SUNDAY, NOVEMBER 19, 2023
"Why Financial Generosity?" // Daniel Mills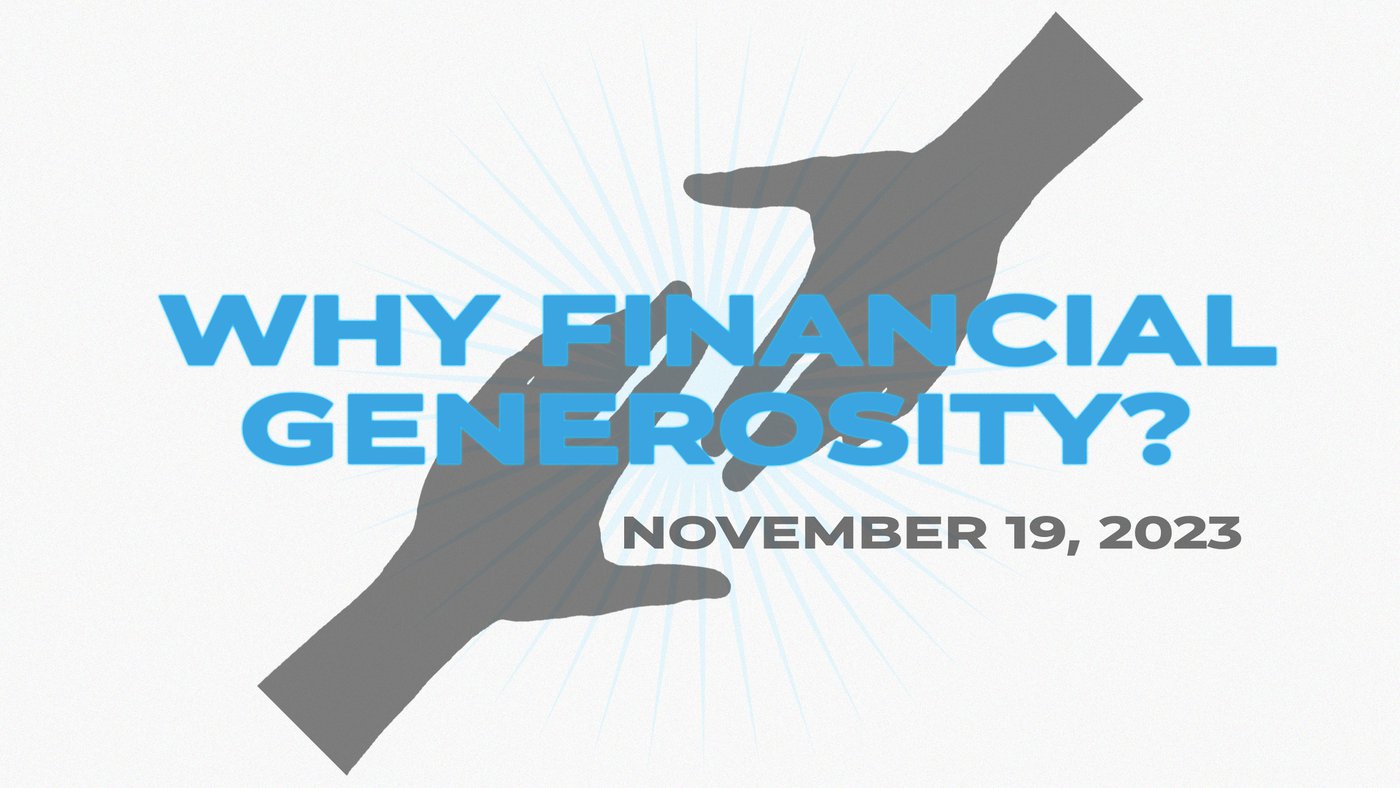 ---
We might be willing to give of our time and talents for God's Kingdom, but sometimes when it comes to our treasures or our finances, giving becomes difficult. Approximately twenty percent of Jesus' teachings dealt with money and possessions. Why? Because there is a profound connection between our heart and our treasures. Everything we do in our spiritual journey is part of an act of faith and our money and finances are no different. The Word of God exhorts us to trust in Jesus and not in our own wealth. The Lord doesn't need our money, but desires us to partner with him as Gospel Patrons to see his Kingdom come here on earth as it is in heaven. Will you use your treasures to partner with Jesus for gospel proclamation?
A Gospel Patron
A Gospel Patron is a disciple of Jesus who has developed a posture of generosity for the proclamation of the gospel through their time, talents, and treasures.
Our Heart & Our Wealth
Mark 4:18-19 – Still others, like seed sown among thorns, hear the word; but the worries of this life, the deceitfulness of wealth and the desires for other things come in and choke the word, making it unfruitful.
1 Timothy 6:10 – For the love of money is the root of all kinds of evil. And some people, craving money, have wandered from the true faith and pierced themselves with many sorrows.
Tithing from the Old Testament to the New Testament
Genesis 14:18-20 – And Melchizedek, the king of Salem and a priest of God Most High, brought Abram some bread and wine. Melchizedek blessed Abram with this blessing: "Blessed be Abram by God Most High, Creator of heaven and earth. And blessed be God Most High, who has defeated your enemies for you." Then Abram gave Melchizedek a tenth of all the goods he had recovered.
Genesis 28:22 – And this memorial pillar I have set up will become a place for worshiping God, and I will present to God a tenth of everything he gives me.
Malachi 3:8-12 – "Should people cheat God? Yet you have cheated me! "But you ask, 'What do you mean? When did we ever cheat you?' "You have cheated me of the tithes and offerings due to me. You are under a curse, for your whole nation has been cheating me. Bring all the tithes into the storehouse so there will be enough food in my Temple. If you do," says the Lord of Heaven's Armies, "I will open the windows of heaven for you. I will pour out a blessing so great you won't have enough room to take it in! Try it! Put me to the test! Your crops will be abundant, for I will guard them from insects and disease. Your grapes will not fall from the vine before they are ripe," says the Lord of Heaven's Armies. "Then all nations will call you blessed, for your land will be such a delight," says the Lord of Heaven's Armies.
Matthew 23:23 – "What sorrow awaits you teachers of religious law and you Pharisees. Hypocrites! For you are careful to tithe even the tiniest income from your herb gardens, but you ignore the more important aspects of the law—justice, mercy, and faith. You should tithe, yes, but do not neglect the more important things.
2 Corinthians 9:11 – You will be enriched in every way so that you can be generous on every occasion, and through us your generosity will result in thanksgiving to God.
The Principal of the First
Genesis 4:3-5 – When it was time for the harvest, Cain presented some of his crops as a gift to the Lord. Abel also brought a gift—the best portions of the firstborn lambs from his flock. The Lord accepted Abel and his gift, but he did not accept Cain and his gift.
Exodus 13:1-2 – Then the Lord said to Moses, "Dedicate to me every firstborn among the Israelites. The first offspring to be born, of both humans and animals, belongs to me."
Colossians 1:15 – The Son is the image of the invisible God, the firstborn over all creation.
Matthew 6:33 – But seek first his kingdom and his righteousness, and all these things will be given to you as well.
Giving is an Act of Faith
Luke 16:10-11 – If you are faithful in little things, you will be faithful in large ones. But if you are dishonest in little things, you won't be honest with greater responsibilities. And if you are untrustworthy about worldly wealth, who will trust you with the true riches of heaven?
Acts 10:35 – And I have been a constant example of how you can help those in need by working hard. You should remember the words of the Lord Jesus: 'It is more blessed to give than to receive.'"
A Vision of Generosity
"You can't take it with you, but you can send it on ahead" –Randy Alcorn
1 Timothy 6:18-19 – Tell them to use their money to do good. They should be rich in good works and generous to those in need, always being ready to share with others. By doing this they will be storing up their treasure as a good foundation for the future so that they may experience true life.
Learn more about Financial generosity through these books