TAKE NOTES
SUNDAY, March 19, 2023
"Faith that Marvels our Saviour" by Winston Miller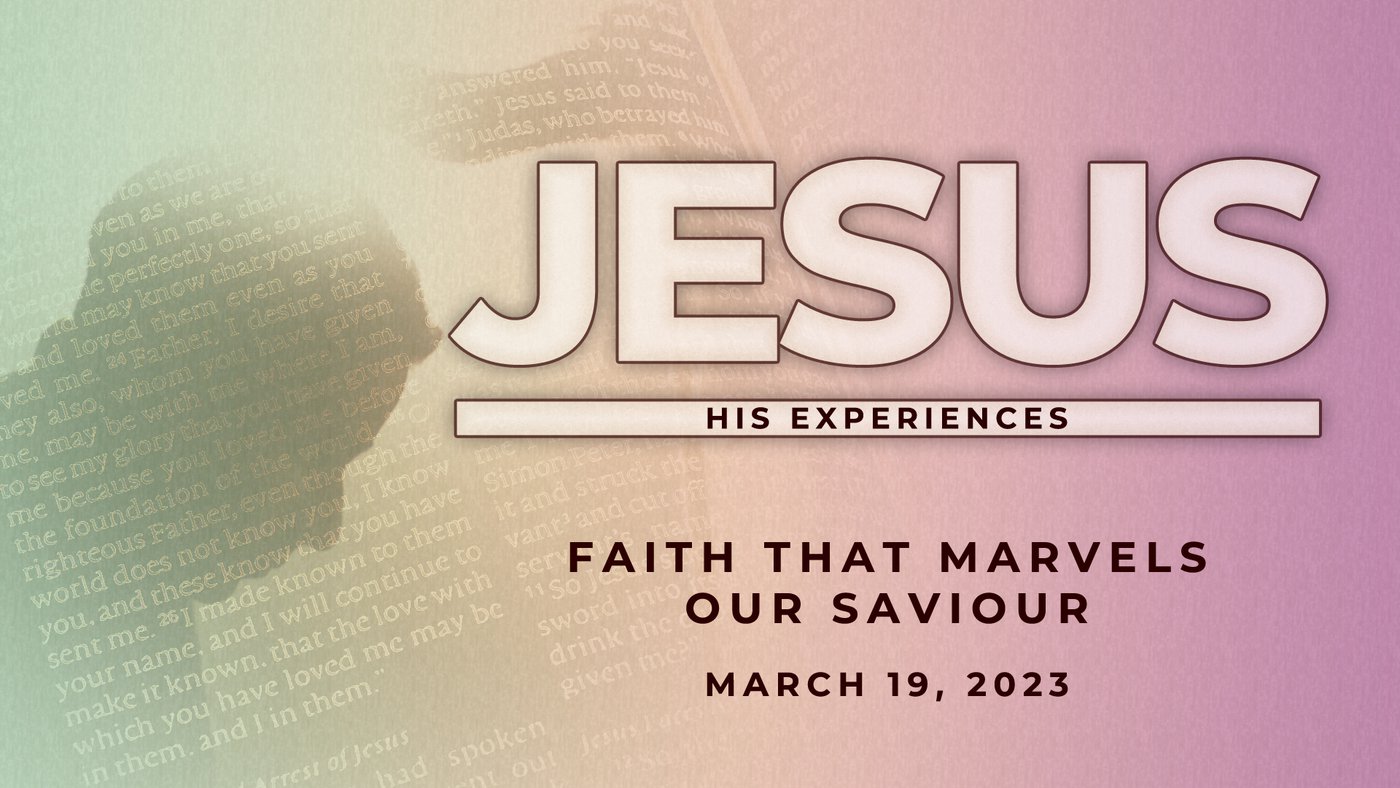 ---
Luke 7: 1-10 - After he had finished all his sayings in the hearing of the people, he entered Capernaum. Now a centurion had a servant who was sick and at the point of death, who was highly valued by him. When the centurion heard about Jesus, he sent to him elders of the Jews, asking him to come and heal his servant. And when they came to Jesus, they pleaded with him earnestly, saying, "He is worthy to have you do this for him, for he loves our nation, and he is the one who built us our synagogue." And Jesus went with them. When he was not far from the house, the centurion sent friends, saying to him, "Lord, do not trouble yourself, for I am not worthy to have you come under my roof. Therefore I did not presume to come to you. But say the word, and let my servant be healed. For I too am a man set under authority, with soldiers under me: and I say to one, 'Go,' and he goes; and to another, 'Come,' and he comes; and to my servant, 'Do this,' and he does it." When Jesus heard these things, he marveled at him, and turning to the crowd that followed him, said, "I tell you, not even in Israel have I found such faith." And when those who had been sent returned to the house, they found the servant well.
Background:
Faith
Hebrews 11:1-6 - Now faith is the assurance of things hoped for, the conviction of things not seen. For by it the people of old received their commendation. By faith we understand that the universe was created by the word of God, so that what is seen was not made out of things that are visible. By faith Abel offered to God a more acceptable sacrifice than Cain, through which he was commended as righteous, God commending him by accepting his gifts. And through his faith, though he died, he still speaks. By faith Enoch was taken up so that he should not see death, and he was not found, because God had taken him. Now before he was taken he was commended as having pleased God. And without faith it is impossible to please him, for whoever would draw near to God must believe that he exists and that he rewards those who seek him.
Who do we have faith in?
2 Chronicles 20:20 - And they rose early in the morning and went out into the wilderness of Tekoa. And when they went out, Jehoshaphat stood and said, "Hear me, Judah and inhabitants of Jerusalem! Believe in the Lord your God, and you will be established; believe his prophets, and you will succeed."
Psalms 37:28 - For the Lord loves justice; he will not forsake his saints. They are preserved forever, but the children of the wicked shall be cut off.
Four characteristics of faith:
2. Taking the initiative to act, and to ask.