Sunday, March 21, 2021
"Rewards" sermon by Pastor Kevin Rutledge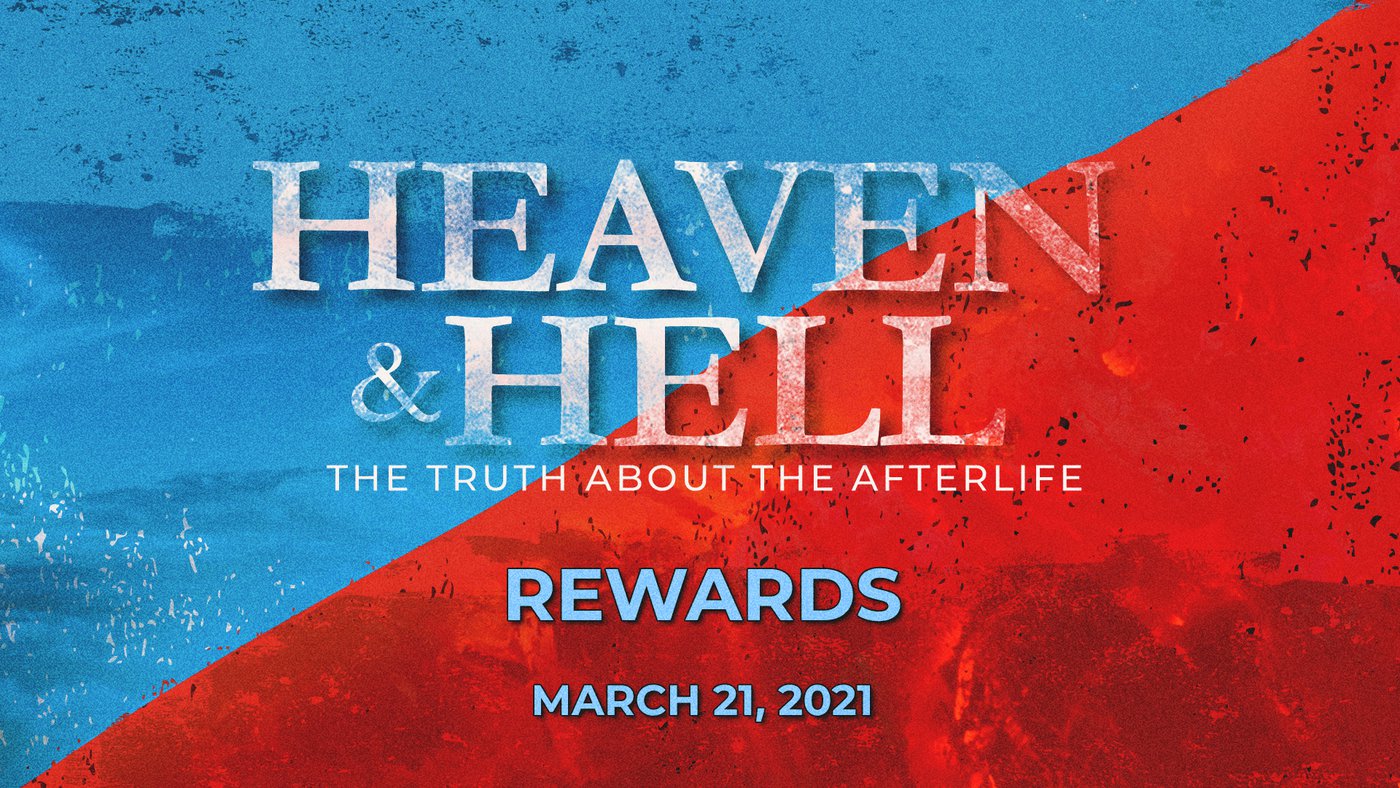 ---
Heavenly minded – earthly good
2 Corinthians 13:5 - Examine yourselves to see whether you are in the faith; test yourselves. Do you not realize that Christ Jesus is in you-- unless, of course, you fail the test?
The reward for faithful living
2 Corinthians 5:10 - For we must all appear before the judgment seat of Christ, that each one may receive what is due him for the things done while in the body, whether good or bad.
Revelation 22:12 - Behold, I am coming soon! My reward is with me, and I will give to everyone according to what he has done.
Rewards as motivation for right living
Deprivation
Hebrews 11:26 - He regarded disgrace for the sake of Christ as of greater value than the treasures of Egypt, because he was looking ahead to his reward.
Suffering (Hebrews 10:32-39)
Hebrews 10:3-11:1 - It is a dreadful thing to fall into the hands of the living God. Remember those earlier days after you had received the light, when you stood your ground in a great contest in the face of suffering. Sometimes you were publicly exposed to insult and persecution; at other times you stood side by side with those who were so treated. You sympathized with those in prison and joyfully accepted the confiscation of your property, because you knew that you yourselves had better and lasting possessions. So do not throw away your confidence; it will be richly rewarded. You need to persevere so that when you have done the will of God, you will receive what he has promised. For in just a very little while, "He who is coming will come and will not delay. But my righteous one will live by faith. And if he shrinks back, I will not be pleased with him." But we are not of those who shrink back and are destroyed, but of those who believe and are saved.
Luke 6:20-23 - Looking at his disciples, he said: "Blessed are you who are poor, for yours is the kingdom of God. Blessed are you who hunger now, for you will be satisfied. Blessed are you who weep now, for you will laugh. Blessed are you when men hate you, when they exclude you and insult you and reject your name as evil, because of the Son of Man. "Rejoice in that day and leap for joy, because great is your reward in heaven
Faithful service (Matthew 25:14-30)
Matthew 25:21 - "His master replied, 'Well done, good and faithful servant! You have been faithful with a few things; I will put you in charge of many things. Come and share your master's happiness!'
Matthew 25:28-30 - Take the talent from him and give it to the one who has the ten talents. For everyone who has will be given more, and he will have an abundance. Whoever does not have, even what he has will be taken from him. And throw that worthless servant outside, into the darkness, where there will be weeping and gnashing of teeth.
The testing of our deeds (1 Corinthians 3:12-15)
1 Corinthians 3:12-15 - If any man builds on this foundation using gold, silver, costly stones, wood, hay or straw, his work will be shown for what it is, because the Day will bring it to light. It will be revealed with fire, and the fire will test the quality of each man's work. If what he has built survives, he will receive his reward. If it is burned up, he will suffer loss; he himself will be saved, but only as one escaping through the flames.
Rewards are no reason for pride